When my son Nathaniel turned ten, I was shocked– I have been doing this mothering thing for ten years!  Wow!  Those late night feedings, comforting by walking the hall endlessly, stubbed toes, chasing him down, playing dinosaur/cars/train, have now melded into one sporting event after another and conversations about… girls.  He is now 12.  Wow. Wow. The other moms warn me, "those" years– the teen years are coming.  I have decided that my son will, of course, be a charming delight through his teenage years.
I was.
Really!  Ask my parents.
My husband and are dismissing the occasional first grumpy clouds of teen angst as dangerous teenage "experimentation" I hear about.  It will end.   Not long after his 12th birthday, a young lady told him that she liked him… Oh my, lets stop this ride!!  It's not that I don't trust my son; I think he is beyond awesome.  This young lady is an exceptional girl; he has great taste.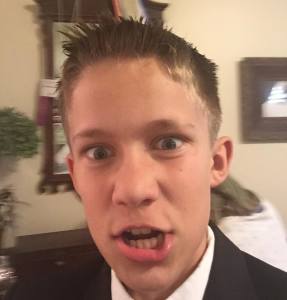 We're even friends with her parents.  Honestly, he should marry this girl!  What?  Yep, I can see the young man he is becoming.  He is great, he will be a great man like his dad, I have no doubt; but still I find myself looking for the breaks!
I want to go back to when he was ten.  Then his interest in girls was observational– if they sat near my son, what words were said, if he perceived them to be having a good day or not, and each day I heard an account of how certain young lady's day went.  Now it's bashful smiles and conversations—I find comfort in the fact that without asking him to he gives me a rundown of the conversation… and then it hits me.  My daughter is ten soon… whoa… that means somewhere in the neighborhood there is a boy observing her.  I feel protective and irritated that any boy could see her in a "interested" way.   Back OFF!
I saw a boy at church hold the door open for her… he looked at her.  He is a nice kid.  Great parents.  I felt totally protective.  Why is that I found my son's interest in girls okay, humorous even and proud that he was picking out such level headed academically oriented kids; but a boy holds the door open for my daughter and I suddenly want to move to the hinterlands?
I remember the heartbreak of my own girlhood…  sometimes that hurt came from boys.  I was still in "the becoming" and wasn't the girl they were anxious to dance with. Of course it hurt.  Then there were the other girls – teenage girls.  I didn't get it. I just didn't get the emotions that come with the roller coaster of girl doom.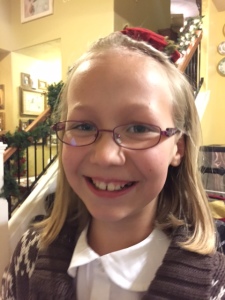 I realize now, with terror, I have no skillsets to raise a teenage girl.  My teen friends were mostly guys- who I knew I could beat in an arm wrestling match any day.  My daughter is a perfect ten.  She is sooo cute!  She has it all: looks, brains and personality.  So much of my character and becoming the woman I am today came was from being overlooked by my peers– getting to be in a corner watching the world go by.
I want her to stay as she is now, surrounded by her stuffed animals, playing with her American Doll and thinking I have all the answers.  I can take her turning ten, but let's stop there– at the perfect age of ten.  That, to me, is a perfect ten.  This growing up stuff is overrated!
Last night I kissed my daughter as she was being tucked into bed and whispered to her as I have ten thousand times "Never forget how much I love you."  I may not have all the answers to help her navigate the next ten years, but I can do what my mom did and see her as the perfect ten that each daughter of God is.