In 1989 big eye-shadow and big hair ruled.  I was 16-years-old and was bold with my makeup too—I wore brown eye-shadow hesitatingly applied.  Self-criticism held me back from enjoying those over the top eye-shadow styles of my youth.  In my book I talk about how I was able to find my way out of the cycle of not appreciating what I had.  Now, 25 years later, gravity has become an issue as I feel my wisdom growing, and I can totally appreciate what I have—beautiful, mature eyes.
If you only look at beauty magazines and Pinterest for your makeup application tips you may have laughed out loud as I cheer for my mature eyes—we could get really frustrated with our eyes because they are not the same as they were in 1989, 1979 or 1969.  Time happens and our eyes shift.  That shifting isn't bad.  I believe that ageing is beautiful and I want to help you see it!
As an early makeup artist most of my work came from brides.  Those girls had the young eyes you find in all the magazines.  You can really do anything you want with eyes like that—just look at the crazy makeup tips you find.  I want the tips I share to help you feel more comfortable and see yourself as the beauty you are.  I believe we are all beautiful; we have just been trained to think that only perfection is beautiful.
I have a ton of makeup tips for mature eyes—but here is my concern:  if I just start posting these awesome tips you may not see what I am talking about.  You need to be retrained first.  You are beautiful.  You are perfectly normal.  What is being sold to you in magazines as "the standard" is not normal. 
Look at this:  
In this example, notice what you don't see.  There are no wrinkles, no hinge on the outside of the eye.  We get this hinge wrinkle from the movement of the eye.
Now look at these:
 These ladies must have been moving their eyes too much.  With all these wrinkles, they must have had years of too much squinting in the sun.  The problem is… these are nine year old girls!  But THIS is the standard we are held to.
She is fabulously airbrushed to a standard of perfection that we all fail to meet.  Because it is not real.
Here is a picture of me (please notice what a good hair day I am having).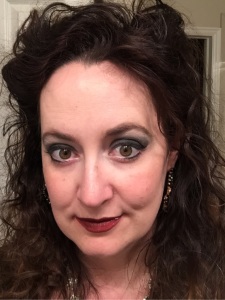 I look stinkin' hot and I am real.  You can tell this picture hasn't been edited because look at this picture and notice what you see.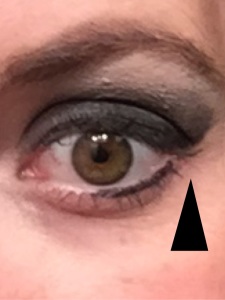 It's like I have wrinkles—shocking!!  I look great for 41 as I use SeneGence skincare.  Look at this without makeup on and see the real "normal".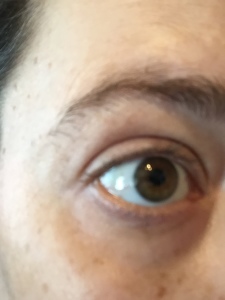 The wrinkles, the downward pull of the eye.  Notice how you don't see it on the first picture?  It is because I used my makeup as a tool to guide the beholder to where I want you to look.  (In my next makeup artist blog I am going to start teaching you those tricks.)
As you are out there looking at Pinterest, see if they are real tips on real faces or if the unreal standard of beauty will make you think that nine-year-old eyes are old because they are not airbrushed.