If you look up "mature eyes" on any internet search engine, you will find a pitch for skincare products and surgery.  This perpetuates the idea that only young eyes (the kind that are airbrushed beyond reason) are beautiful.  I am out to change that perception!  When I meet with my clients face-to-face, I teach them about what I call the Anti-Aging Line™.
When I teach them about the Anti-Aging Line™, I find women refer their friends to me like crazy; because once you understand this, you really can improve your makeup application.  I have been collecting pictures of my willing clients so you can see this on other eye shapes— that way you can find the Anti-Aging Line™ on yourself.
Find line between the corner of your nose, eye and where your brows should end.
Here is my mug: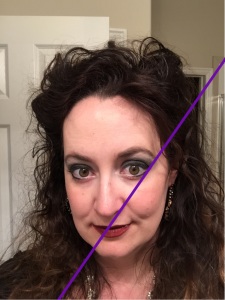 Here is a close up.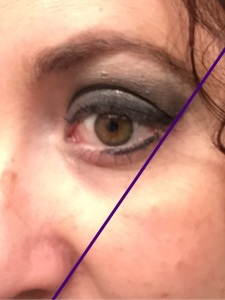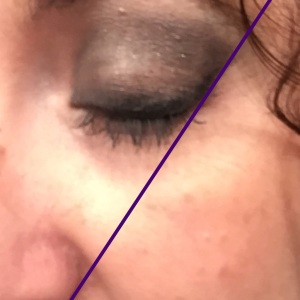 Notice how I keep my makeup within the purple line?  Each part of my makeup pulls the viewer up to where I want them to look.  I don't accentuate the downward angle of my eyes, because that points out the wrinkles.  If I were to draw my makeup on my lid like we typically are taught, I would be accentuating the wrinkle, or the hinge that is there.  When we are young, our eyes are angled up and we can do fun and funky makeup applications—but as the eyes come down, that doesn't work.  I've found that if you keep your makeup within the line, you are fine!
If you would like individual help with this, I can meet with you one-on-one in person or through Skype!  You can contact me by emailing me at glamourconnection@yahoo.com or calling me toll free at (801) 455-7364.  I'll have a video up soon showing you more about the Anti-Aging Line™.