Before my daughter, Katelynn Faith was born, we knew she had a rare chromosomal anomaly.  We knew that Katelynn's differences had made her special and she would be given every opportunity to find her way in life.  Katelynn is strong.  During her time at the hospital, people could see how special she was.  She was surrounded in a sterile, cold environment, and yet she locked eyes with those around her.   People could feel her presence and attentiveness.
Every morning before going to the NICU, I remember sitting on my bed, looking at my wheelchair.  I would think about what I needed to accomplish.  I knew the day demanded more than I had; getting out of bed and getting ready was already so draining.  So, God and I had a conversation.  I told God how much I felt I could do of my day—usually less than 10%— and asked him to take care of the rest.  I knew he had to carry me, because I had to be awesome, I had to be beyond my best for my three children depending on me.  They looked to my attitude to see if they could get through this.  I would not let them down because I was their mom.
I have been blessed in my life with having a close relationship to God.  I know he has carried me and comforted me in some of the hardest times of my life.  My relative, Stephen, is going through the similar need to ask God to carry him when he can do no more.  Stephen has a Chiari Malformation Decompression, which is a rare brain disorder.  Last year, a surgeon tried to fix the problem, and was unable to help.  Stephen's condition has been worsening, with Parkinson shakes, Grand Mal seizures, and periods where he doesn't know who he is or where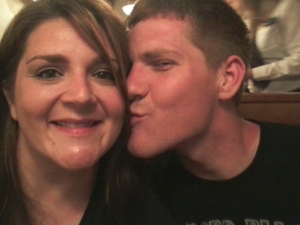 he is.  He has liquid pressing against his brain, which is an additional problem that is causing a lot of complications.  Stephen has been unable to work for more than a year because of his condition.  In November, he was told his brain was starting to necrotize (die) and that he didn't have much longer to live.  When my niece, Sheraya found out what was going on with her cousin, she stepped in with fundraising to help pay for some of the medical costs.  As Stephen's story spread, a specialist on Stephen's condition from New York got involved.  In January, Stephen went to New York to see Dr. Bolognese and found out his condition was NOT fatal, and is operable.
My niece, Sheraya, has spoken to me about how it's hard to see Stephen suffering.  He's in his early 30's—and when he was younger, made decisions that led him down a scary path.  It's hard to see him change his life so drastically, and to have made his peace with God, only to have him now suffering daily from this illness.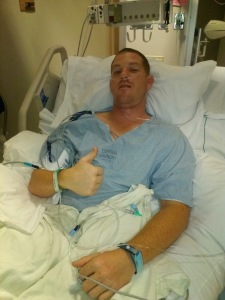 Now we have hope, we have a goal—to raise the money for Stephen to get back to New York and get the surgery he needs to save his life.  Stephen, and his wife, Lesley, are so upbeat and positive.  Throughout the whole experience, Lesley has been looking forward, and has not lost faith that Stephen can get the help he needs.  Stephen is taking life by the horns, and fighting a battle that is overwhelming.  If you are interested in learning more about Stephen's story or helping him get to New York, you can go to his website, BelayingStephen.com or his fundraising site, gofundme.com/belayingstephen.
I'm grateful for all I have in my life, and the fact that we were able to care for Nathan through the bus accident and heart attack, and then Katelynn through her time here.  As much as we try to look on the bright side, the bitter truth is, crummy things happen in life.  But, we can choose to come out of those experiences stronger, surer of ourselves, and more determined to love and cherish the people we have.